---
Classification and application of recycled PET non-woven fabric for interlining
---
The recycled PET non-woven fabric for interlining is a new type of environmentally friendly recycled fabric. Its yarn is extracted from discarded mineral water bottles and coke bottles, also known as coke bottle environmental protection cloth. Because this product is waste recycling, it is very popular abroad, especially in developed countries in Europe and America.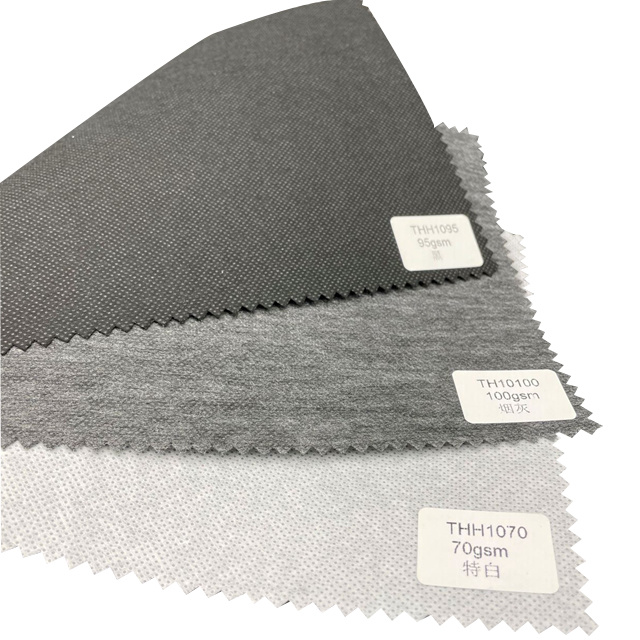 Classification of recycled PET non-woven fabric for interlining fabric classification: recycled PET anti-static fabric/conductive cloth/dustproof cloth, recycled PET umbrella fabric (parasol umbrella/raincoat), recycled PET tent fabric, recycled PET shopping bag fabric (silk style /stretch style), recycled PET luggage fabric (cationic/diamond grid), recycled PET polyester cotton fabric, recycled PET jeanette fabric, recycled PET suede fabric, recycled PET knitted fabric (mesh cloth/rib cloth/jersey) , Regenerated PET fleece (polar fleece/falai fleece/single/double-sided coral fleece/double-sided fleece/PV fleece/super soft fleece/comfort cotton), recycled PET chiffon fabric, recycled PET satin fabric, recycled PET Canvas, recycled PET non-woven fabric (Lixin cloth), recycled PET jacquard lattice fabric, etc.
What are the uses of recycled PET non-woven fabric for interlining:
Industry categories: mountaineering bags, satchels, school bags, pencil cases, children's backpacks, fashion bags, camera backpacks, computer bags, trolley cases, suitcases, shopping bags, handbags, gift bags, drawstring bags, cosmetic bags, storage boxes, Luggage linings, ice packs, medical bags, etc.;
Clothing: Down (coldproof) clothing, windbreaker, jacket, beach pants, swimsuit, anti-static overalls, fashion, theater robes, pajamas, sportswear, etc.;
Home textiles: bed four-piece sets, blankets, toys, car cushions, sofa fabrics, fashionable chair covers, aprons, umbrellas, curtains, cleaning cloths, western restaurant tablecloths, pillows, backrests, baby strollers, etc.;
Others: tents, sleeping bags, hat materials, shoe materials, car decorations, etc.